PLEASE NOTE: THIS REVIEW IS INTENDED TO PROMOTE SALES AS A TRAVEL ADVISOR, I WOULD APPRECIATE YOUR BUSINESS IF YOU DECIDE THIS VACATION IS FOR YOU.
Royal Caribbean has done it again, they have delivered an absolutely amazing cruise ship. Harmony of the Seas is an Oasis Class ship, the third in the class, but she also has some favorite features that come from the Quantum Class and she also added a few "new" things- new to Royal completely!
We boarded the ship in Port Everglades Florida, which is the Fort Lauderdale area. We had stayed at an airport Holiday Inn Express the night before and the hotel had shuttle service (for a fee) to the port. This was all a very easy & smooth process. When we arrived, we did not have porters for this short 2 day cruise, so we had to carry on our bags, not too bad. Check in process was super quick & fully automated. With RCCL when you complete your online check in, you have the ability to take your own photo and upload it, so there really is not much for the check-in staff to do. I'd say we were on board by noon and we arrived at the pier about 1120 am. Our cabins were not ready yet and were not expected to be ready until 1pm & the last thing we wanted to do was walk around with our huge suitcases, so we snuck into our room and left our bags there and started exploring!!
So the Oasis Class ships have neighborhoods, seven of them & most of them have their share of activities, entertainment & dining. When you board the ship, you enter on deck 5 which is the Royal Promenade neighborhood. This is where you can grab a snack 24/7 at Sorrento Pizza or the Cafe. There are about 3 different bars along the Promenade each providing a variety of entertainment and countless stores for any shopping need. Down on Deck 4 you have the Entertainment District, here is where you'll find the Comedy Club (Attic) which also doubles as a disco late at night, there is Studio B which is the ice skating rink where you can take in a show when offered, you can skate yourself and often times they cover up the ice for audience participation type shows and sometimes a dance party as well. There is also a Jazz Club and the lower level of the Royal Theatre.
Central Park neighborhood is simply that- an area that replicates the feel of Central Park in New York City. There are trees, pathways and of course several restaurants, a wine bar, a few shops and park benches to just sit and enjoy the calm & serene atmosphere . This is also one of the two locations where you can board the Rising Tides Bar...a bar that moves like an elevator up and down...you either catch it in Central Park or the Royal Promenade.
Boardwalk is an area that was inspired by places like the Boardwalk in Santa Cruz or Atlantic City, etc. There is a carousel, quick eats places like Johnny Rockets, the Hot Dog Shack, a Mexican Cantina, Starbucks (of course keeping up with the times) & here is also where you'll find the Aqua Theatre a great venue for water shows, incredible diving, dancing, swimming along with water/lights show. The Boardwalk is Deck 6 and it's also where you "land" when you ride The Abyss (more about this in the Sports Deck neighborhood ).
The Spa & Fitness neighborhood is just that- the place where you'll see the state of the art fitness facility that just blew me away!! It's huge, well equipped with tons of Cardio equipment and free weights, a dedicated spin studio with beautiful bikes and heart rate monitors for use, a stairway that leads down to the jogging track (also accessible through other areas). This facility is by far the best one that I've ever seen! Next to the fitness center is the spa where you can enjoy a variety of spa and salon services and to round out this area there is the Vitality Cafe with smoothies and healthy snacks.
The Youth neighborhood includes the kids clubs that starts from the Royal Tots (age 6 months)..all the way up to the Teens to age 17. Age appropriate club activities available for each age group, a wonderful arcade with all sorts of games and very well trained youth staff to take care of the Little passengers while Mom & Dad enjoy all that the ship has to offer.
The Sports Deck neighborhood has it all! Flow Rider machines for boogie boarding and surf simulating. Zip Line that runs across the Boardwalk area. Two Rock Climbing Walls. Basketball/multi-sports court, ping pong tables, miniature golf...seriously, you cannot get bored with so much offered! The new addition on this ship is The ABYSS. WOW!!! This is a slide (no water) that takes you from Deck 16.5 all the way down to the Boardwalk on deck 6 in about 11 seconds roughly. SO. MUCH.FUN!! You sit in a sliding assisting device and hold on tight as you zip down this slide. Of course, plenty of pools and a water zone for kids with their own miniature water slide, hot tubs by the main pools and two additional hot tubs that are cantilevered. And the new addition to the pool areas for this ship...real water slides...3 of them and they are pretty darn fun- I tried all of those as well! It's hard to believe that RCCL has never had water slides on any of their ships before, but they realized that this was something needed.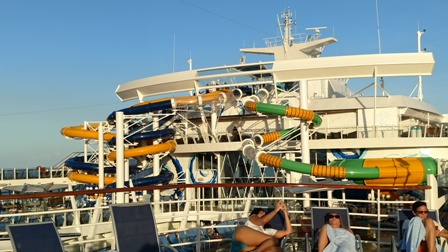 Dining- well on this cruise we were assigned to the main dining room, which spans 3 decks, each deck has a different name and a different decor but the same menu and same excellent service and attentiveness. We were assigned to "Silk", the other two are "Grand" and "American Icon". Nothing to complain about regarding our two dinners, everything was fabulous. For the remainder of our dining experiences, we had lunch in the buffet (Windjammer) one afternoon and on our embarkation day they were offering "tastings" at the various specialty restaurants so you can have bit size snacks to sample places like Chops Grille, Jamie's Italian, Wonderland, Park 150, Izumi, etc. So that was a great way to get an idea of what each restaurant offers. We also had breakfast on our last morning in the Park Cafe & we slept in the other day, so didn't get breakfast. Of course, Sorrento's is always there after a night of dancing for a quick bite of yummy pizza. You won't go hungry on this ship and even the most picky of eaters will find something to eat.
Entertainment, along with the little venues that have various types of music and dancing, Harmony also offers a Broadway production of "Grease". It was EXCELLENT!! Great, great show! These shows run about 90 minutes and are performed by top notch talent, most of the cast in this show were from London. We also watched "Fine Line" which was the water acrobatic show and that did not disappoint either, such amazing talent and stunts! We did spend most of our free time at night in Dazzles which is a venue with a decent sized dance floor and a band playing some really good dance music. This band was excellent and we did not have any issues getting our dancing done!
Of course, this ship has top notch technology. Zoom WiFi which is available for a fee (we had it for free on this sample sailing) and it was working very well- which with a ship full of media people and Travel Professionals, I think we definitely all put the WiFi to use! The photo gallery is all digital and you have the ability to purchase the digital download or the actual picture or a C.D. of pictures. It was very easy to download the picture. The Royal I.Q, app is pretty good, you can have "your calendar " and check anything that you want to have on your schedule from day to day. The only complaint that I have about it, once the clock strikes midnight, you can't get info from the previous day...so you still need to carry around your cruise compass to know where things are happening for the late hours!
All in all, this is a wonderful ship and one that I really want to return to for a full sailing just to enjoy all of the things this beauty has to offer!
To see my album of photos for HARMONY OF THE SEAS, PLESE CLICK HERE!!