PLEASE NOTE: THIS REVIEW IS INTENDED TO PROMOTE SALES AS A TRAVEL ADVISOR, I WOULD APPRECIATE YOUR BUSINESS IF YOU DECIDE THIS VACATION IS FOR YOU.
This will be a bit of a different review that my others in large part because this weekend in
Tahoe was not about being a travel agent or "vacationing"- it was about getting married!!
However, the travel agent in me, does take mental note of things we like to look at when
travelling, so this will be a review of the destination, the hotels and the activities, along with
some "bridal" input. So this will be a combination trip/wedding review!

PRE-TRAVEL ARRANGEMENTS:

Our wedding was being held at the Wedding Chapel at Harvey's and I must say that I was a
bit disappointed with Harvey's Hotel and Casino with regard to room rate negotiations.
They wanted us to put up $1000 non-refundable deposit and if we did not get a minimum of
10 rooms booked for our weekend, we would lose that money. That wouldn't be so bad,
we actually did have 10+ rooms booked at their hotel, but everyone was able to secure a
much better rate than what they wanted to offer the group and they would not let us count
those "better rate" rooms towards the block.

Not wanting to take that gamble, we secured group rates at both the Horizon Resort Casino
Hotel and the Embassy Suites Tahoe Resort. Both of these hotels were more than
accommodating in offering discounted rates and blocking space without "true" commitment
on our part. We received positive feedback from guests who stayed at both these hotels, so
they were good choices for our wedding guests.

PRE-WEDDING ARRANGEMENTS:

From the first moment that I contacted the Wedding Chapel at Harvey's, they were nothing
short of wonderful to work with!! They handled every call and every question with true
professionalism and always made us feel secure with our decision to get married at
Harvey's. We went up to Tahoe 2 weekends prior to the wedding to meet the folks at the
Chapel (Tanya, Ron, Kari) and they treated us as though they had known us for years and
put all questions to rest, made us feel as though our wedding arrangements were the most
important thing in the world to them and that we should not worry at all.

Their wedding packages were all-inclusive, but able to be upgraded and customized and
very, very affordable. They include the chapel site, minister, photographer, DJ, DVD of
ceremony, flowers, cake and reception meal. We did not have to worry about anything but
securing our marriage license, which the State of Nevada makes that task very easy.
The Chapel seats 50, but can stand up to
100, we had 65 guests and it was very
comfortable. It would be very crowded
with 100, but you are not there for very
long. The ceremonies are on average
10-15 minutes long. It was a beautiful,
crystal clear day on June 10, 2006 and it
was wonderful to be able to see the
beautiful backdrop of Lake Tahoe and the
trees outside the windows!!
The next arrangement we needed to set was our Friday night pre-wedding dinner for our
families and bridal party. Tanya at the wedding chapel was wonderful with her suggestions
and we ended up visiting three places and decided that we wanted to have our party at
Sammy Hagar's Cabo Wabo Cantina- they are located underneath
Harvey's and they have a private room, called the "Red Rocker
Room". They did not have a room charge, just required that there
be one check and that everyone order off the menu. We had 27
people at the dinner and the total cost for meal, drinks, gratuity and
the usage of that room for 3 hours came to $700. The service was
outstanding. We had two waitresses who were dedicated to our
group and they could not have been more attentive.
WEDDING WEEKEND:

We drove up on the Thursday prior to the wedding and had a drive that was smooth as can
be, no traffic, we made it up to Tahoe in 4 hours from Redwood City with a lunch/gas stop.
Upon our arrival at Harvey's, which is where we stayed, the valet people were very
welcoming and handled our carload of baggage and wedding items very carefully, put a
worry wart like myself at ease. Check-in was smooth and we thought our room was
beautiful- just like the pictures.....Our bags arrived very quickly
and so did a beautiful flower arrangement from one of my

corporate clients of many years. One of the many things that
week that brought tears to my eyes. The overwhelming
kindness of others was making me teary-eyed all week long!
Once we were settled into our room and everything unpacked
we strolled around the hotel and started to enjoy the "down"
time before the wedding. Most of our guests and family were
coming up the next day, so this was time to ourselves.
We decided to treat ourselves to a nice, romantic meal and ate
dinner that night in the Sage Room at Harvey's, it is their steak
house and the food was marvelous. We were there for over 2
hours enjoying each course. The service was excellent and the
meat melted in your mouth. Bill had the Beef Wellington and I
had the Filet Mignon--both were excellent! Not to mention the
table-side Caesar Salad for two and then the finishing touch of
Turtle Cheesecake. Yes, we waddled up to our room after that
meal!!
< id="e2" style="left: 84px; top: 707px; width: 316px; height: 185px; position: absolute;">
Our next day was very leisurely, we met with the Chapel staff once again to deliver the
cake top and other similar items, finalized any last minute questions and then we were
able to enjoy the rest of the day. We walked around the newly developed area next to the
Marriott Resort and near the Gondola. There are plenty of shops and dining venues and a
movie theatre. There is an ice rink in the making right now. They have really done quite
the job with the South Lake Tahoe revitalization plan that started several years ago. It is
truly a different place from when I vacationed there with my family 20 years ago. Then
mid-afternoon we started to run into friends and family as they were all arriving for the
wedding weekend. Many of our friends and family were staying at the nearby Embassy
Suites Tahoe Resort and the Horizon Resort Casino down the block. We actually joined
some of my family at the Embassy Resort for cocktails one evening and I have stayed
there in the past- it is really a wonderful hotel and I would have stayed there myself,
except for the need to be very close to the Chapel. The rooms at the Embassy Suites are
all suites and have 1 or 2 beds in the bedrooms and a sofabed in the living room. They
offer complimentary breakfast each morning and complimentary cocktails, popcorn, trail
mix in the evenings. It is a great value for the money! See pictures below.....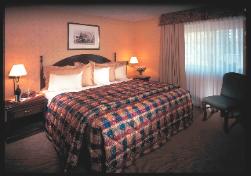 The morning of the wedding, we ladies had hair appointments at Lulu's Hair Salon in
Harrah's- they were absolutely wonderful. They were true professionals and made you
feel completely at ease that they were going to do beautiful things to you. Everything
went smoothly and after hair appointments, the 3 of us ladies got dressed in my room
and did any finishing touches. The wedding itself was fabulous and I cannot really say
that anything went wrong. I was amazed, but I guess when you combine the fine
planning skills of a travel specialist (like myself) and the wonderful staff at the Wedding
Chapel, you can't go wrong. Our reception was held at Harvey's "Top of the Wheel",
which used to be their top floor restaurant before they had two towers, now it is
exclusively a banquet venue and the only banquet venue with windows and beautiful
views of the mountains and lake! Again, the food was delicious, the DJ and
Photographer that were included in the wedding package were excellent. (TKO
Entertainment and Lake Tahoe Studio) They also worked very well together, you could
tell they have worked together many times in the past, which just makes for a smooth
sailing reception! Everyone had a BLAST!!! As if that were not enough, we continued
the party with about 25 friends and family on the lake that night and took one of the
sunset dinner cruises. The people from the Tahoe Queen picked us up at Harvey's and by
bus took us to the pier. Our group tickets were
waiting for us there, everything, once
again-smooth!! We boarded and had our
pre-reserved tables waiting and the wait staff
ready to take our drink orders. We had a
lovely 3 course meal with 4 adult choices and
chicken strips for the kids. Everyone enjoyed
their meals and we followed it with dancing on
the 2nd deck for the remainder of the cruise.
The weather that night was made to order. We
did not need sweaters or shawls at all. We were able to walk out on the deck and see
beautiful Emerald Bay, one of my friends was even given the opportunity to steer the
boat our of Emerald Bay--she did a great job!! It was just a very fun evening and it still
wasn't over. Many friends who did not join us on the boat cruise caught up with us
afterwards and we did some more dancing at Harrah's and actually learned that the DJ
at Harrah's was the same "photographer in training" who was taking pictures at our
wedding. He made us feel very welcome and played songs for us-he was surprised that
this was our 3rd party of the day! The night finally came to an end around 1am for us,
we were beat, actually "we" weren't beat-but my feet were "done"!! Big Time!! I am used
to athletic shoes and cowboy boots!
Sunday we relaxed all day, we met one last time with the people at the Chapel to get
our DVD and watched it for the first time--it was awesome. We spent some time with
friends by the pool, met up with a few others before they went back home and had a
nice family dinner at the Carriage House "coffee shop" restaurant at Harvey's. Not sure
many of us were all that hungry since we ate so much the day prior, but it was good to
spend time with the immediate family. Monday came and we all went our homeward
ways. It was an awesome weekend, an awesome wedding and from hotel staff to
wedding staff to family and friends, we were made to feel very special the entire
weekend.